Three Grilled chopped fish Restaurants in Hanoi
Grilled chopped fish dish of the Hanoi people are served with noodle, basil, roasted peanuts, peeled onions, dill with a bowl of shrimp sauce prepared elaborately. If you cannot eat shrimp sauce, you can also call fish sauce instead. Fish is the main raw material, processed mainly from hemibagrus and fruit fish … The chef cut the fish into pieces, fried in oil and then put both the kitchen and the pan on the table for the guests.
People eat onions, dill into the pan and stir up. Pick up a small noodle chopsticks into the bowl, add some peanuts, herbs, a piece of fish and some onion fried in a hot pan suspending the smoke, sprinkle on the small spoon of shrimp sauce and start enjoying. Each of these things blended together to create a delicious taste of Hanoi specialties.
The shop that sells gefilte fish in Hanoi is not much, and it is better not to mention 3 restaurants: Cha Ca La Vong, Thang Long gefilte fish and Anh Vu gefilte fish.
La Vong gefilte fish
Most foreign tourists coming to Hanoi want to enjoy this dish, they come to La Vong gefilte fish with over 130 years of age.
La Vong's Grilled chopped fish is mainly made from hemibagrus and fruit fish, so the meat is firm and chewy, it is not tossed and flipped when stirring many times in the pan. The fish pieces are moderately cut, when ripping is slightly curled. Crunchy but soft in the middle.
The bowl is not salty but just eaten, not strong but still retains the characteristic smell. The fat sweetness of La Vong's Grilled chopped fish pieces blends with the aroma of vegetables and salty sausage of shrimps, causing many people to crave.
La Vong fish price is VND 175,000 per person.
Address: 14 Cha Ca street and 107 Nguyen Truong To.
The restaurant in Cha Ca street is relatively crowded but is an old establishment, while at Nguyen Truong To is more clean and spacious, suitable for large groups.
2. Thang Long gefilte fish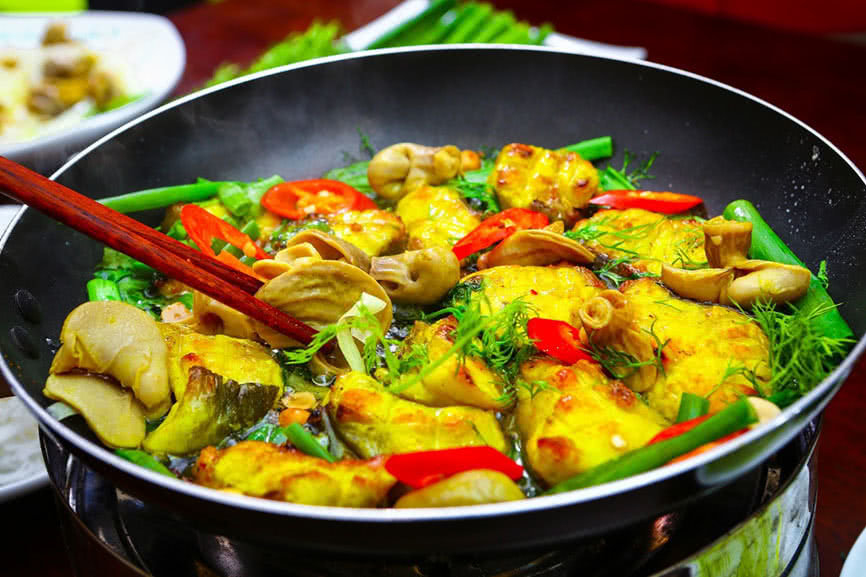 This is the preferred address no less than La Vong Grilled chopped fish by delicious food and slightly softer prices.
The restaurant has 3 dishes made from fish: Grilled chopped fish, fish stomach and fish head soup. The gefilte are made from hemibagrus and sea bass, chopped into pieces. The chef still left the thick skin on the outside to make it more tough. When fried, it is dark brown, not as white as a fruit fish, it is soft and not dry.
Guests use sauce is shrimp sauce or fish sauce of the restaurant, or it can be made according to its own taste. The pieces are fried by the chef, when they are putted in the table, the color is yellow. People who eat just turn over for hot and ripe dill, onions can enjoy.
You can call the fish stomach with food. The shrimp sauce here has a better taste in La Vong, the fish sauce for those who do not eat shrimp sauce is also very good. The advantage of the shop is the spacious area of 3 base located close to each other, quick service staff.
The price for one is here from 150,000 VND per person.
Address: 19, 21, 31 Duong Thanh.
3.Anh Vu Grilled chopped fish
With a relatively affordable price, 130,000 VND per serving, Anh Vu Grilled chopped fish are chosen by many people as a destination on a frozen day. Therefore, the tables here are often closed.
The Grilled chopped fish is made from fresh, soft and sweet fish, marinated with marinated turmeric and own spices. The fish is fried well and then it is ready to serve customers. The piece of fish is cut quite big, slightly light soaked to eat with shrimp sauce, it is both delicious and tasty.
Although it is not tough if the meat is in above the restaurants, it still ensures enough fraglant meat. How to eat as well as other Grilled chopped fish  pick up a small bowl of noodle, herbs, onions, some peanuts, some shrimp sause and sprinkle on a spoonful of boiling fat in a pan. The restaurant is clean, spacious parking space, enthusiastic and attentive staff, from parking attendants to service.
Address: 120 Giang Vo.